Live Group Chat
The live group chat is a public chat that all of the attendees have the access to. The live group chat is a good feature for open discussions, for example connected to a live broadcast. Then the attendees can ask questions to the speakers that they can answer directly in the broadcast.
The chat is integrated to the vVenues, the chat admin can therefore moderate it directly from the platform. This guide explain how to moderate the live group chat.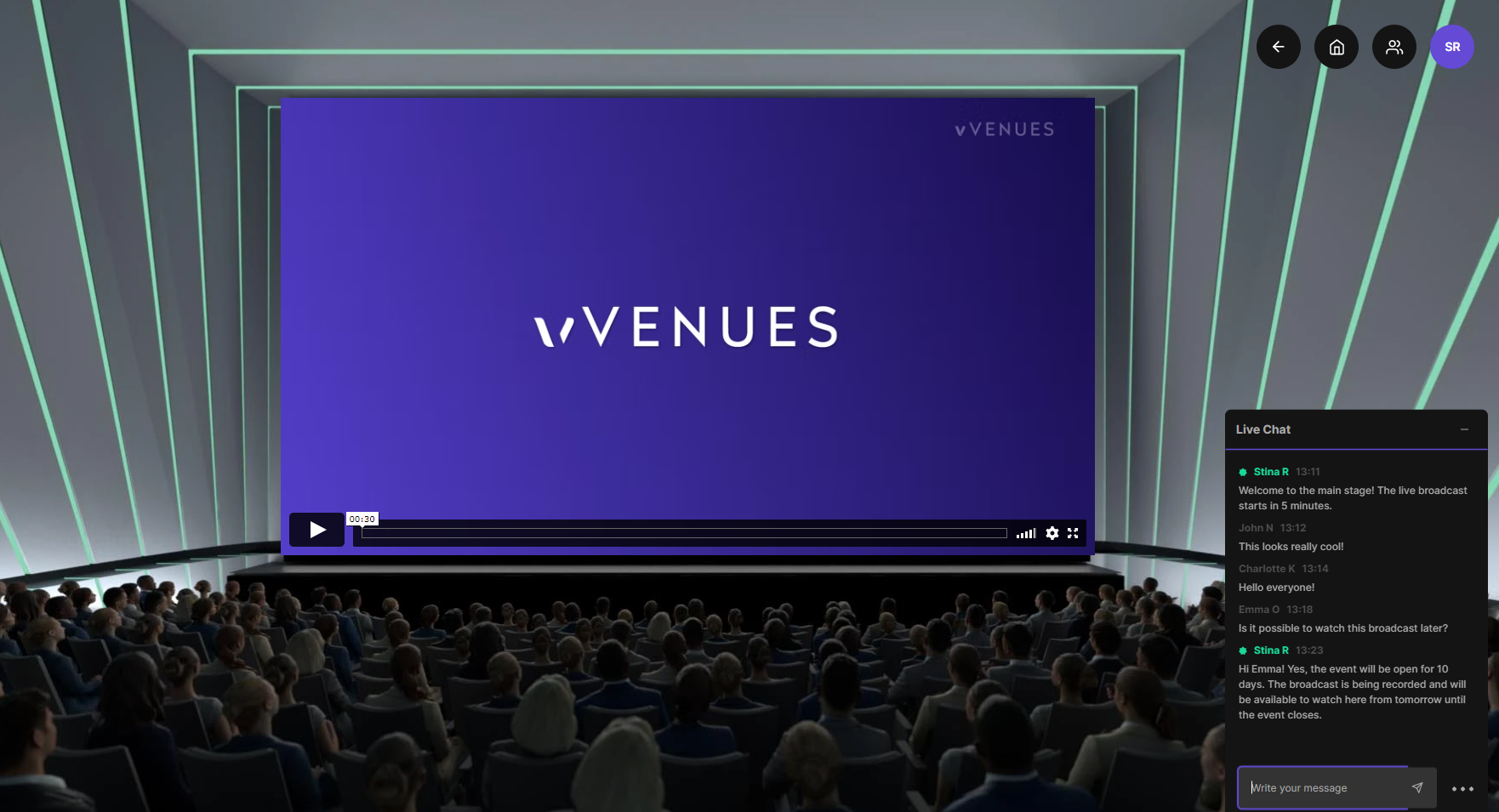 Chat Admin
The chat name is always your first name and the first letter of your last name. Which you stated when you checked in to the event.
As an admin, the name is marked in green. The admin has the ability to delete and star mark messages. As an admin you can also ban people from the chat.
BILD PÅ INZOOMAD CHATT
Admin functions
When an admin hold their mouse pointer over a chat message, three icons will appear.
To delete a message click the X and the message will disappear from the attendees chat view. It will remain in the admin view, but the X will turn red. This allow the admin to undo a deleted message, click on the X again and the message will be brought back in the chat.
To ban a person from the chat, click the circle and it change color to yellow. Then that person won't be able to write in the chat. If the admin press the circle again, the banned person will be allowed back.
The admin also has the ability to mark messages as a favorite. This function allows the admin to filter specifik messages, e.g. questions you want to address in the live broadcast.
Filter messages
BILD
To filter the star marked messages, click in the three dots next to the message field – choose "Show only starred". This makes it easy to pick up questions or messages that you would like to bring up in the broadcast or save for later.
Export chat
BILD
When the event is finished, the admin can download and save the chat. Press "export chat as a CSV" and it will be downloaded to your computer.