Brief
To create a new project as simply as possible, we need answers to a few questions and assets in order to set everything up.
General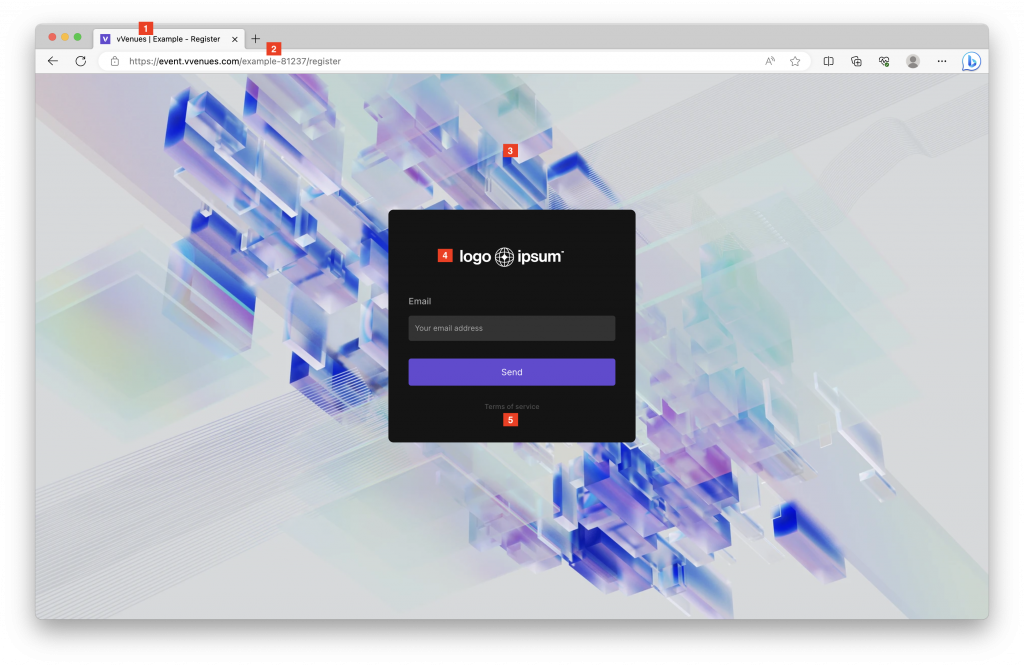 Name: Example EXPO 2023 (1)
Link: event.vvenues.com/example (2)
Privacy: Public or Private. Public event is an event where everyone can register and check-in. For Private events the attendees have to be imported beforehand or sign in using SSO. SSO (single sign-on) will require additional work and is something that have to be arranged together with vVenues.
Networking: True or False. When the Network feature is enabled, attendees will be able to search for others in the network area, start one-to-one chats, group chats, video mettings and much more.
Start Date/Time: 2023-08-01 12:00 (GMT+2)
End Date/Time: 2023-08-04 23:59 (GMT+2)
Appearance
Background Image – Use an image without text that is at least 1920×1080 (aspect ratio 16:9). Supported formats are PNG and JPEG. (3)
Logo – Use a logo that will work on a dark background. For best results use an image that is at least 1000px wide. Supported formats are PNG and SVG. (4)
Terms & Support
Terms of Service – It's important to be clear about how the personal data is stored and used. Please provide us with a link or PDF with the Terms & Conditions for the current event/platform. (5)
Check-in Error Message – A message is displayed if the visitor has problems checking in. For example, the user's email address is not on the list at a private event. Ex Unfortunately there was a problem with your check-in. Please try again or contact support@example.com
Idle Page
Idle Landing Page – Text that will be shown before the event has started and when its closed. Ex Example event is closed and will be open this time…
Check in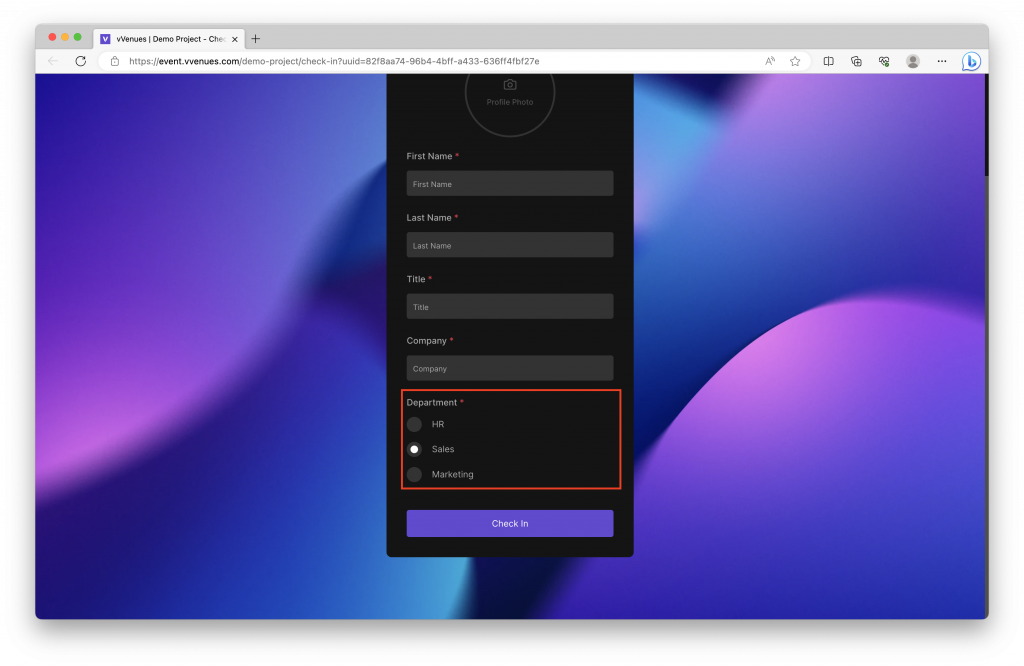 You can add custom fields for your event so you can learn more about your visitors or help them to find other interesting people in the network area. The default fields is First name, Last name, Title, Company and Profile Picture. You can have multiple custom questions.
Title: Ex Department
Required: True or False
Show this question in the networking area (or use it for analytics only): Show/Hide
Field Type: Single Line Text, Multi Select, Single Select or List
Alternatives: Ex Sales, Communication, HR etc